The program at a glance
Join us for a Zoom info session at 5:00 pm (EST) on the first Sunday in November, and on the first Sunday in February.
What kind of program is it?
Six-week intensive summer program in advanced French and Francophone studies, and in Theater studies, for undergraduate and graduate students.
About 40 participants from over 20 institutions (Bard, Berkeley, Bowdoin, Bryn Mawr, Cornell, Georgetown, Harvard, Haverford, Johns Hopkins, Middlebury, Northwestern, Oberlin, Ohio Wesleyan, Notre-Dame, Princeton, Yale, Stanford, Wesleyan, Williams, etc.).
In the medieval city of Avignon, in Provence, in the south of France.
Established in 1962, it is one of the oldest and longest continually running study abroad programs.
Students select two courses from the 5 upper-division courses and 3 graduate seminars (accessible to selected undergraduate students) offered in French studies and in Theatre studies. No more than 15 students per class.
Theater workshop (for credit): meets 3 times per week to prepare a play to be performed at the end of the program. Limited to 12 participants.
Guest speakers are invited to talk about a wide range of topics (Eg.: « Comment penser avec Deuxième sexe 70 ans plus tard », « Les processus de radicalisation », « Mai 68 »). Attendance to these events is mandatory.
It is a full-immersion program: participants are required to speak French at all times. All classes are conducted in French. All communications are in French.
Applicants must have a strong academic record and have completed a course in French at the third-year college level or the equivalent.
When is it?
From Thursday, June 8 to Sunday, July 23, 2023. See our "Calendar" section for more details.
How does it work?
Undergraduate classes meet four days a week for two hours per session, usually between 8:30 and 1:00 (with a thirty-minute break).
Graduate seminars meet twice or three times per week (6 hours per week)
Wednesday is a reading day (no class).
Optional social and cultural activities are also offered during the week (Eg.: cooking workshop, movie night, visit to local museums).
Excursions are offered on Saturdays.
Day-long excursions take participants to places of interest in Provence where they would not necessarily go by themselves (canoeing to the Pont du Gard, Provençal "farmers' market" in Uzès, the medieval castle at Les Baux de Provence, visit of Corbusier's La Cité radieuse in Marseilles, etc.) and always include one cultural activity in the morning and one recreational activity in the afternoon.
Participants are invited to three plays as part of the Festival d'Avignon.
Students stay with a host family within walking distance to class, or by themselves in a studio in the heart of the city.
What makes it distinctive?
A rigorous, engaged and lively academic setting.
Participation of both undergraduate and graduate students from some of the strongest programs in French and Francophone studies in the United States.
Faculty from top American and French academic institutions offering new high-quality and stimulating courses every summer (thereby offering the possibility to students to participate several times). Professors and courses are indeed renewed every summer.
The experience of living in a walkable medieval walled city and taking classes in several-centuries old historic buildings.
Avignon's world-famous incomparable theater festival takes place during the last three weeks of the program (showcasing more than 1,500 plays!).
Competitive price (for 2022: $6,500 tuition fee + $500 program fees + airfare + housing and meals).
Family-like atmosphere. A Bryn Mawr-affiliated faculty director and two assistants are available to help, in case of emergency, 24/7.
What's the Festival d'Avignon?
"To provide theatre, and collective art, with something other than indoor spaces; to reconcile architecture and dramatic poetry." – Jean Vilar (founder of the Festival d'Avignon)
Founded in 1947, the Festival d'Avignon is one of the most important contemporary performing arts events in the world. Every year in July, Avignon becomes a city-theater, transforming its architectural heritage into performance venues, welcoming tens of thousands of theater-lovers of all ages. The Festival manages to bring together a popular audience and cutting-edge international creation. Avignon is also a state of mind: the city is an open-air forum where festival-goers discuss the shows and share their experiences as spectators. For a month, everyone can have access to a contemporary and living culture. (Adapted from the Festival's official Webpage)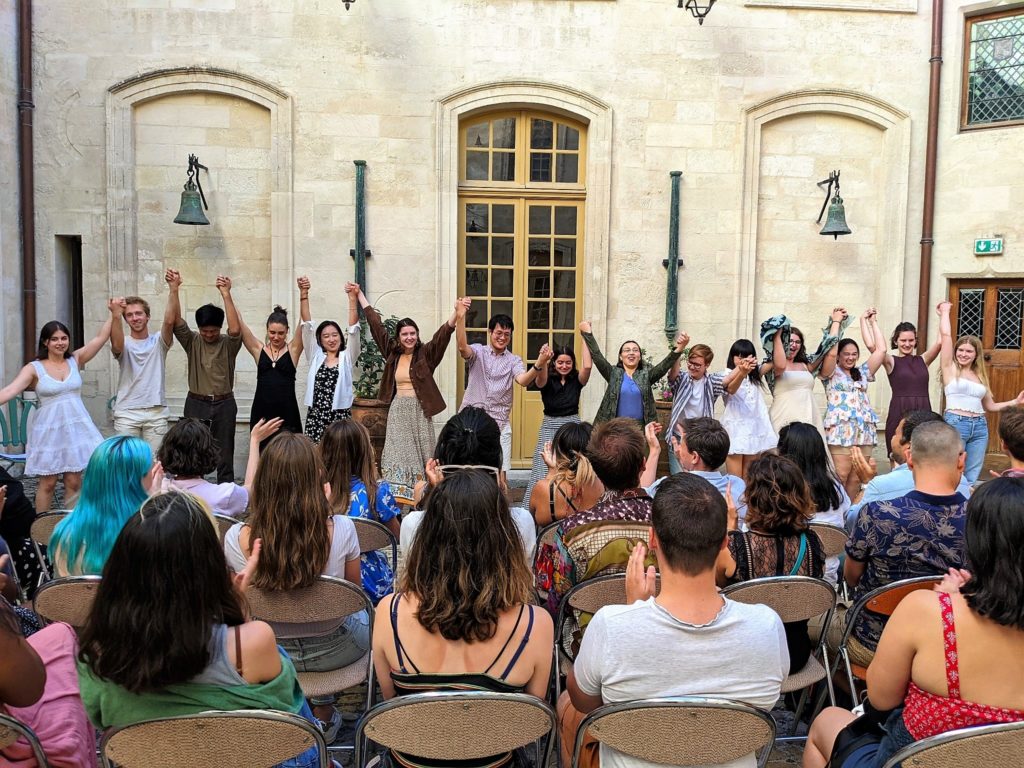 How is Avignon?
A very walkable, medieval walled city. Avignon was the seat of Western Christianity in the 14th century (hence the world-famous historical Pope's Palace). See the tourist office's Website.
It is somewhat quiet during the first three weeks of the program, and very busy during the international theater festival.
Avignon enjoys a hot climate (in the 90s in July).
It is 2h30 from Paris by train. Connected to Paris airport by train (3h). 45 minutes by train from the port city of Marseilles (and its international airport).
Ile de la Barthelasse on the Rhone river is the largest river island in Europe and is a wonderful place for picnics, walks, and jogs.
How much does it cost?
Tuition is $6,600 + program Fees $500. Please note that there can be no refund after June 1.
Included: tuition, conferences, excursions, social and cultural activities, and three plays during the Festival d'Avignon.
Not included: travel to and from Avignon, books, housing, and meals (students staying with host families only have to pay for their lunches). Personal expenses vary greatly from one student to the next (some students spend money only on food while in Avignon as the program already offers plenty of activities).
What about housing?
There are three options:
Student housing (most affordable option; centrally located, basic, includes a kitchenette, and private bathroom): $2,300.
Private studios (centrally located, slightly more expensive, and more comfortable): $2,500
Homestay (includes breakfast and dinner, recommended for best fully-immersive experience, usually outside of walls of the medieval part of Avignon): $2,500
Please note that because Avignon is the gateway to Provence, a very touristic region, and because of its famous international theater festival in July, housing is expensive in the summer and availability is limited. The Institut d'Avignon, however, strives to make housing as affordable as possible for its participants (between $2,300 and $2,500). It should also be noted that housing standards in France may be quite different from American ones. Air conditioning is, for instance, a rarity.
What else do prospective participants need to know?
Participants should plan to travel only before and/or after the program. It is an intensive program: between classes, homework, conferences, excursions, and social and cultural activities, there is little time to travel during the program. Students are certainly welcome to explore the region on the weekend, which is easily done by public transportation.
Provence is filled with places of interest and offers various types of experiences (Roman vestiges, wine and cheese tasting, small villages, castles, lavender fields, hiking, canoeing, beach, etc.).
A perfect attendance record is expected from all participants.
Participants are expected to speak French at all times. Six weeks, fully immersed can make a big difference in language acquisition.
The theater course is offered in the afternoon and is open to undergraduate students only unless there is room available for graduate students.
Exceptionally, undergraduate students who have already taken a minimum of 3 literature courses may be authorized to follow one and only one graduate seminar after an interview with the program director and the professor of the course in question.
Many invited professors have actually participated in the program as students.
Withdrawing cash at local ATMs is the best way to get cash.
French SIM cards can be purchased for about $20. Monthly temporary plans with unlimited calling and data are usually about that much.
Program applications are submitted through an easy online process.
Scholarships are available upon request.
For financial aid and scholarships, here are a few links:
NAFSA – U.S. Study Abroad Scholarships and Grants List
Study Abroad Scholarships
Go Overseas Study Abroad Scholarships
Alliance française de Philadelphie – Pierre C. Fraley Scholarship
Bourses Marandon
What is the timeline?
First Sunday in November, and the first Sunday in February, Zoom info session at 5:00 pm (EST).
March 1: deadline to submit application.
March 15: acceptance email sent and scholarships awarded. Course pre-registration will begin shortly thereafter.
Last Sunday in March: online orientation session (mandatory for participants).
See the "Calendar" section for more.
What is the application process?
Applications are done online here before March 1. Two letters of recommendation are requested.
Scholarships are available on a limited basis. All scholarships will be awarded on the basis of academic excellence and financial need. To request scholarship application forms, email avignon@brynmawr.edu.
APPLICANTS REQUESTING A SCHOLARSHIP WILL FIRST NEED TO COMPLETE AN UNDERGRADUATE OR A GRADUATE APPLICATION FOR ADMISSION BEFORE REQUESTING A SCHOLARSHIP APPLICATION FORM.
If you are unable to complete the online application, please contact avignon@brynmawr.edu or call 610-526-5984. Paper applications are available for those who are not able to apply online. The processing fee for a paper application is $25.
What about COVID?
Vaccination will be required for all program participants. Updated details about our protocol will be provided in April during the mandatory orientation session online.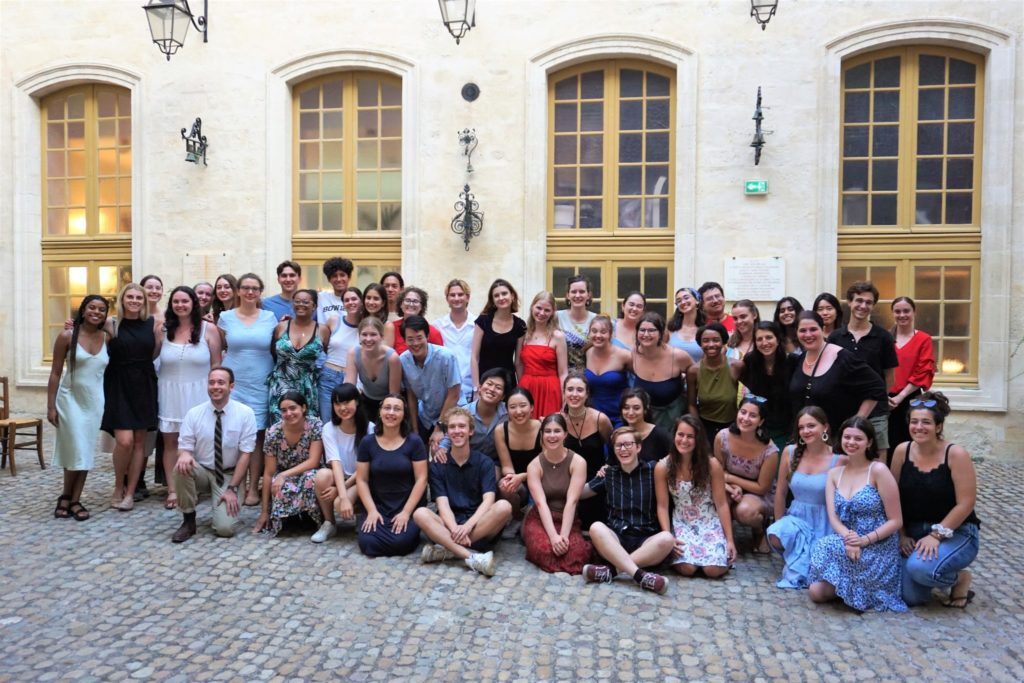 What they have to say about the program:
Lucy D. (Harvard University). Before I set foot in Avignon, I thought of studying French as a way to fulfill a language requirement. Before I felt the wind blow through my hair as I rode my bike across the Rhône River every morning and afternoon, I believed I was not meant for travel. Before I formed meaningful relationships with my host mom, host dad, host sisters and their children over dinner chats and family trips, I always thought I was only able to have that familial bond with blood relatives. Before I walked from shop to shop and watched one theater piece after another, I never thought my French would be strong enough to leave the classroom. I was wrong, and boy, I am glad that I was. My summer in Avignon proved that I am capable, I am loved, and that the French language and culture have a special place in my heart. In the classroom, I was able to continue exploring my passions for theater and history and do so in a language I was growing to love. I learned about war and peace and love and loss from teachers who were both captivating and caring. I formed friendships that I know will last. All in all, I cannot recommend this program enough. Avignon taught me more than I knew I could learn.
Moreen M. (Bryn Mawr College). In my opinion, one of the greatest strengths of the Institut d'Avignon is the fact that it draws a diverse, academically talented group of students from a multitude of prestigious colleges and universities. While students all come into the program with a variety of linguistic and cultural strengths, knowledges, and abilities, everyone present shares an evident passion for the pursuit of the French language and is able to help encourage group-wide academic progress over the course of the time spent in Avignon. Students truly learn from and with one another during this program, but to speak only of the academic collaboration and linguistic advancement which is fostered by the Institut would be to only tell half of the story. During group excursions to surrounding towns and in living within such close proximity to one another, students have the opportunity to form profound, lasting friendships with peers which often go on to eclipse the conclusion of the program. Students come together throughout the course of the six weeks to cook meals and watch soccer games together; to plan weekend trips to Marseille, go to museums, do homework, pass apéros and to celebrate birthdays. Inside jokes will be untranslatable, and you will never find pain au chocolats which taste exactly the same as the ones shared with friends before morning classes. The memories formed are truly unique and cherished; though the distance between friends' home universities may be significant, the longevity and strength of the bonds formed speaks to this fact. The academic strength and rigor of the Institut d'Avignon, and the profound improvements in linguistic and cultural comprehension which result, cannot and should not be understated. The courses are demanding and challenging, and professors consistently push their students to engage with texts through critical discussion and close analysis in ways which may be unfamiliar to participants. Additionally, lectures given by guest speakers cover advanced topics and encourage important, engaged, direct dialogue between students and leading writers, researchers, and thinkers. Truly, the entire structure of the program is thoughtfully designed to push students' capacities and effectively immerse them in the academic and social culture of the country. As a student who also has had the unique opportunity of studying in Paris at the Sorbonne the semester immediately following the summer spent in Avignon, I can say from first-hand experience that the Institut d'Avignon successfully combines the best aspects of the French and American university systems in order to best encourage participants' authentic immersion, progression, and success. In pushing the comparison further, it is my opinion that the Institut d'Avignon offers a better study abroad experience than the traditional semester away in France, as it encourages discussion and class engagement which truly drive speaking and listening progression that I did not see as being open to exchange students in the traditional university setting. Undoubtedly, students will leave their time in Avignon feeling more capable and able to pursue their study of and passion for French in a deeper capacity.
Kevin M. (Haverford College). My summer at the Institut d'Avignon confirmed to me that I have a home in the south of France. Starting off, I felt quite apprehensive about living life for a summer in a second language with which I had only a few years of experience. The first three weeks of the summer allotted me a calm introduction to the city itself and the many idiosyncrasies of Provence. Although I had long been accustomed to lunchtime at Haverford being a half-hour long daily occurrence, lunch anywhere in Avignon was at least a two-hour gastronomic ceremony. Dinners with my host-family lasted the entire evening; six courses were an expectation, not a special event. After a few weeks, I could identify my favorite bookstore, arthouse movie theater, artisan bakery, lunchtime brasserie, and even a café that doubled as an artisan ice cream stand. Each day, my speaking skills flourished, as I wandered through the city noticing friendly faces and forming legitimate and substantial relationships with real French people in their native language. Thanks to the coziness of such a small city, I found my home in Avignon. Throughout the Festival d'Avignon, I couldn't stop speaking French and making friends from all across the country. At every corner, I found flyers for various productions, and I actually spoke to the actors of each performance on my walk to class. That this festival took place in a city where I had already felt so comfortable meant that nothing was off-limits. My summer in Avignon pushed me to challenge myself; to open myself up to new opportunities, even when they seemed scary; and to grow my interest in theater and the arts into one of my core passions.
Patrick O. (Bowdoin College). What I loved most about the Bryn Mawr program in Avignon is the balance. It's an all-encompassing program that allows you to experience a ton of different things in a relatively short period of time. The classes are intensive, but you still have time to hang out with new friends while you are there, explore the city, and go on the excursions that the program offers (go on those excursions, they are amazing!). I took a theater course and one on the literature of war. Both were amazing, but what I appreciated the most is the cultural input that both of my professors integrated into the curriculum. So not only are you immersed in the language, but you learn a lot about the specifics and history of French culture that (due to the scholarly nature of the discussions) you would otherwise never learn on such a level in the context of regular conversations. It's important to note that your experience is what you make of it. You have choices: to live with a host family or be more independent, to spend more time with the program students or to try and meet people in the city. I will say that in Avignon there are some shady characters and places, but in general the people there are super welcoming and kind. I made some friends with the University students there and we went out all the time. Avignon is certainly not like most tourist destinations in France, and with the influence of the theater festival it's a unique place. Outside of the city, I went on trips to Nice, Montélimar, Orange, all for different reasons: I travelled with friends from the program, a French student's birthday party, even played baseball of all things!